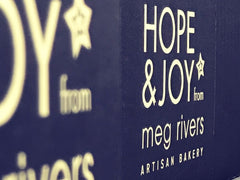 As we approach the final few shopping days before we take a break over Christmas I wanted to update you on Christmas stock and delivery.

In a year like no other, I'm super proud of how our little team has safely adapted and production has continued throughout.

Deliveries
Our deliveries are contracted to a courier company who (like every courier company) have had to scale and adapt to meet un-precedented demand. Christmas is their busiest period and this year will undoubtedly break records.
They have provided an update on specific postcodes taking longer than usual. Read here

As a result we're predicting there may be a few mistakes and hiccups along the way. Sadly we can't control delivery once a parcel leaves us. Any issues usually occur at a local level when drivers get delayed on route or off sick. Typically delays are never more than 24hrs, but where they are we will always do our best to sort the problem for you and lost parcels are re-sent where appropriate.

As as precaution we've been limiting the number of parcels sent on each shipping date available. This will hopefully ensure that even if there are any minor delays, parcels will still reach the intended recipient before Christmas. We really appreciate your understanding - delays are never intentional.

Stock
Our website always shows the most current stock information, we won't be adding more Christmas stock now.

Cake Club memberships are always popular at this time of year and we have a reserved stock of Christmas Cakes for new memberships. All 6 or 12 month pre-pay Cake Club orders placed for delivery on or before 16th December will receive a fully iced Christmas cake delivered before Christmas. Those after the 16th will receive their first cake (Sticky Ginger) early in January.
Finally, Happy Christmas!
Thank you all, once again, for your continued support throughout 2020. Rest assured that we'll be working hard to ensure every parcel get's delivered and brings much needed happiness.

Wishing you a safe and Happy Christmas
Jess.