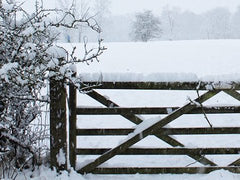 I just wanted to reassure you that, as with the first lockdown, we are still working hard baking and sending out your parcels of happiness.
As a result of the first lock down we put in place additional measures to keep everyone safe which will continue for the foreseeable future. We continue to maintain our split shifts, which provides us with two teams should one need to self isolate. Customer care whether phone answering or email happens remotely from our homes. As you would expect we have continued uninterrupted with our increased cleaning regime in addition to maintaining our stringent SALSA accredited bakery standards.
I do recommend that you allow additional time for deliveries to arrive if you can. During the first full lock down delivery companies and the Royal Mail were under significant strain due to increased demand and reduced staff availability. I imagine this may be similar this time round and if the delivery is for a specific event I would strongly advise that you take delivery sooner to avoid any unforseen delays causing disappointment.
With best wishes to you all and thanks for your continued to support
Jessica