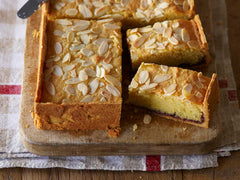 This is a huge favourite in our house, serve it cold as a tea time treat or warm with cream for a glorious pudding.

Base
1 quantity Pâte Sablée (see below)
150g raspberry jam
Filling
130 g salted butter, soft
160 g sugar
4 eggs
260g ground almonds
40g  flaked  almonds, to decorate
34x20x3cm baking pan
baking parchment
baking beans
Makes 12
For the Pâte Sablée
200 plain flour
50 g ground almonds
75 g (caster) sugar
160 g salted butter, at room temperature, cubed
1 egg yolk
Makes about 500g
Put the flour, ground almonds and sugar in a large bowl and stir until evenly mixed.
Add the butter and use your fingertips to rub it into the mixture until the texture
resembles breadcrumbs. Add the egg yolk and, still using your hands, mix and knead until the dough binds together into a tight, smooth ball - it can seem like it will never bind, but have patience, it will!
Wrap the dough in cling film and refrigerate for about 30 minutes until firm. Before use, remove from the refrigerator and allow to stand at room temperature for 10-15 minutes.
---
Method
Preheat the oven to 170°C (325'F) Gas 3. Remove the Pâte Sablée from the refrigerator and allow to rest at room temperature for 15 minutes before using.
On a lightly floured work surface, carefully roll out the Pâte Sablée until about 5 mm thick and use it to line the baking pan. The pastry is fragile to handle but any gaps can be repaired using surplus pastry. Gently press along the sides and into the corners and trim off the excess pastry with a sharp knife. Prick the base in a few places with a fork and line the tart case with a sheet of baking parchment. Fill the tart case with baking beans and blind bake in the preheated oven for 15-20 minutes. Remove from the oven and set aside to cool. Leave the oven on. Spread the raspberry jam evenly over the cooled pastry base.
To make the filling, cream together the butter and sugar in a large bowl until pale and fluffy. Add the eggs one at a time, beating after each addition. Add the ground almonds and whisk thoroughly. Spoon the filling over the jam base and spread to the sides of the pan. Sprinkle the flaked almonds over the top and bake in the hot oven for 30-35 minutes or until the filling is golden on top and feels firm in the middle.
Remove from the oven and allow to cool before cutting into 12 slices. The slices will keep for 5-7 days in an airtight container.