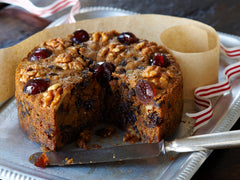 Perfect for chilly autumn afternoons this is one of our oldest and most popular cakes, this version is wheat free, which makes it a little more crumbly when sliced than our wheat version, having said that, it tastes every bit as good. It takes some commitment - you need to start it two days before you want to bake it and let it rest for at least 24hours before eating! It will absolutely be worth it.
Ingredients
115g / ¾ cup Zante currants
115g / ¾ cup sultanas/golden raisins
70g / ½ cup mixed candied peel
60g / ½ cup chopped glace cherries
25g / 3 tablespoons chopped crystallised ginger
45g / ⅓ cup chopped walnuts
20ml / 4 teaspoons brandy
120g / 1 stick unsalted butter
80g / ⅓ cup packed dark muscovado/dark brown sugar
2 medium eggs
90g / ⅔ cup wheat-free plain flour
35g / ¼ cup ground almonds
1 teaspoon ground mixed spice / apple pie spice
¼ teaspoon ground cloves
Topping
9 walnut halves
8 whole glace cherries
Deep, 15-cm/6-inch round cake pan, lined with baking parchment
Method
Start the cake 2 days before you want to bake it.
Put the currants, sultanas/golden raisins, mixed peel, glace cherries, ginger and chopped walnuts in a bowl. Add the brandy, cover with clingfilm/plastic wrap and allow to soak overnight.
The next day, preheat oven to 130ºC (250ºF) Gas ½
In a large bowl, cream the butter and sugar together until pale and fluffy.
Add the eggs one at a time, beating between each addition. Add the flour, ground almonds and spices and slowly fold in until a smooth mixture is obtained. Add the brandy-soaked fruits and stir in.
Spoon the mixture into the prepared cake pan and spread level with a palette knife. Decorate the top of the cake with the walnut halves and whole glace cherries, placing them in a circular pattern.
Bake the cake in the middle of the preheated oven for about 90 minutes. A skewer inserted into the middle of the cake should come out clean. (the cake will remain soft to the touch when baked, unlike a pound cake that will spring back when pressed with your fingertips. The finished colour is not very different from the uncooked state and there will often be a residue of nut oil on the surface, but don't worry, the oil is absorbed back into the cake on cooling.) Remove from the oven and allow to stand for an hour or two before turning out onto a wire rack to cool completely.
Allow the cake to set for 24 hours before serving. The longer you can leave it to mature, the better. Cut with a sharp serrated knife using a sawing motion.
The cake will keep for 6-8 weeks in an airtight container.