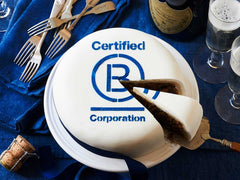 I am so excited to announce our certification as a B Corporation (or B Corp). We are now part of a growing community of 4,000 companies globally reinventing business by pursuing purpose as well as profit. 
We were tested against rigorous social and environmental standards covering five key areas, Governance, Workers, Community, Environment and Customers.
Providing quality products that are also socially and environmentally responsible has always been core to our business ethos. To have our efforts certified as B Corp™ is wonderful, and I hope will provide you, our customers, with further reassurance when you buy from Meg Rivers Bakers of Happiness, you are buying from an accountable and transparent business that is working to be a force for good.
Chris Turner, Executive Director of B Lab UK says "We are delighted to welcome Meg Rivers Bakers of Happiness to the B Corp community. This is a movement of companies who are committed to changing how business operates and believe business really can be a force for good. We know that Meg Rivers Bakers of Happiness are going to be a fantastic addition to the community and will continue driving the conversation forward". 
"Being able to welcome Meg Rivers Bakers of Happiness to the B Corp community is hugely exciting. Their commitment to doing business differently will be an inspiration to others and really help spread the idea that we can redefine success in business to be as much about people and planet as it is about profit". 
This accreditation means a lot to us and is the culmination of a lots of hard work! In the spirit of community I would love it if you could help us spread the word by telling others, or sharing on social media. We also have a media pack available and are always interested to talk to media publications looking to feature small businesses such as ours.
Thanks
Jessica White
_______
Media information available from karina@megrivers.co.uk
Find out more about B Corp here
https://bcorporation.uk/