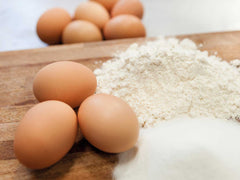 Quality ingredients are essential for producing beautiful cakes and biscuits and this has been at the heart of our business since Meg Rivers founded the bakery over thirty years ago. Buying the best quite often means the more expensive option but we know that this is essential for producing excellent results time after time.
Where possible we try and use local suppliers to cut down on our carbon footprint and support local businesses. Our butter, which goes into nearly all of our products, is always made with British milk and produced at a British dairy. We are proud to have always used free range eggs and these come from a farm just one mile away from the bakery.
Certainly the spices that we use in our fruit cakes are not local but we buy from Fox's Spices who are based at Stratford upon Avon and that's just a fifteen minute car journey when we want to discuss a new blend of spices for a product in development. Our contact at Fox's is Andrew who knows all there is to know about spices and dried herbs; exactly where they are all grown, the weather patterns in the growing regions throughout the year and how these conditions will affect the final flavour of any one spice.