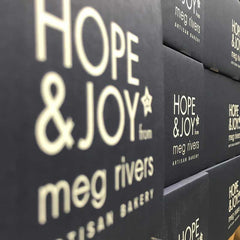 I'm excited to finally share with you our HOPE & JOY collection.
These beautiful gift hampers have been my personal project for the last few months and I'm thrilled with the final results! All of your favourite gift occasions are still covered (Birthday, New Baby etc) but going forward and encouraged by the hugely positive feedback we had at Christmas, all of our gift hampers now include a donation to our charity partner, Teenage Cancer Trust.
Many of you will know that my mother, Joy, died from cancer when my three sisters and I were still children. After Mum's death, my father, Julian, gave up his career to care for us. A few years later at Meg Rivers' request Dad began to work part time with her at the bakery. Sadly, Meg too died of cancer and Dad was asked by her family to take on the business. With this history it is perhaps no surprise that partnerships with cancer charities have been part of the Meg Rivers story ever since.
As I start to take on more responsibility in the business I wanted to find a way to continue and grow Dad's legacy of supporting cancer charities and so HOPE & JOY was born.
HOPE & JOY has two main principals at its heart. To give JOY by delivering delicious cakes and carefully curated gifts for your enjoyment and HOPE by making a donation to a cancer charity with every gift purchase.
We have always found that Meg Rivers customers are generous, caring people and, with your help, we want to do all we can to help families affected by cancer, so we've made it our mission to raise £1million for cancer charities across the UK with our exclusive new range of gift hampers.
With a HOPE & JOY delivery from Meg Rivers Artisan Bakery, not only will the recipient receive a thoughtful (and delicious) gift, but you'll also have the knowledge that a worthwhile donation has been made. We aim to make sure "GIVING IS A PIECE OF CAKE" so if you've enjoyed your gift, as a sender or recipient, please help us spread a little HOPE & JOY and let others know about us!
Jess x