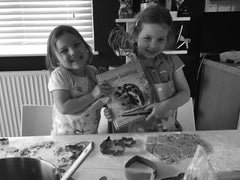 My sister recently sent me this brilliant photo of my nieces busy baking in the kitchen at home. Their school summer fete was coming up and alongside the competition for a jam jar full of weeds (!) was a plate of four homemade biscuits.
Being the quietly competitive type, my sister knew the extra special Shortbread recipe in Meg Rivers Home Baking book would hopefully give her girls the edge over the competition.
There are three different types of flour in our Shortbread recipe which seems excessive but in actual fact is pretty easy to make. The girls added a few handfuls of good quality dark chocolate chips to woo the judges but you could do the same with chopped nuts or dried fruit or leave them plain! 
If baking with or without "little ones" sounds too time consuming or challenging then why not try our Shortbread Selection? We use the best possible ingredients, including British butter, finest Belgian chocolate and English honey and all our biscuits are made by hand. They would also look great alongside a jam jar full of weeds in the competition tent...
 Recipe
165g / 11 tablespoons salted butter, firm but not hard
85g / scant ½ cup (caster) sugar
200g / 1 1/2 cups plus 2 tablespoons plain/all-purpose flour
5 teaspoons cornflour/cornstarch
35g /1/4cup rice flour
A pinch of salt
A 5cm/2inch round cookie cutter
baking sheet lined with baking parchment
Makes 20
Preheat the oven to 170C (325F) gas 3
In a large bowl, cream the butter and sugar together until pale and fluffy.
Sift the flour, cornflour/cornstarch and rice flour into another bowl, then add a quarter of the total flours to the creamed butter and stir in. Add another quarter of the flour and begin rubbing the mixture together using your fingertips. Add the remaining flour and mix again with your fingers. Knead gently into a malleable ball of dough. This can also be done by putting all the ingredients in a food processor and blending until it forms a smooth ball of dough.
Tip the dough out onto a lightly floured surface and roll it out until about 1cm/1/2 inch thick (roll a little thinner if you are using the biscuits to make a strawberry dessert). Stamp out discs with the cookie cutter and arrange about 4cm/1 ½ inches apart on the prepared baking sheet. Re-roll any leftover dough and cut out discs, as before, until all the dough is used up. Bake in the preheated oven for 20 minutes or until the bases of the biscuits are golden and the tops are almost firm to the touch. Remove the biscuits from the oven and allow them to cool and set on the baking sheet before eating or storing.
The cookies will keep for 7-10 days in an airtight container or freezer for up to 2 months.
Don't fancy baking yourself? - Check out our range of Shortbread here.