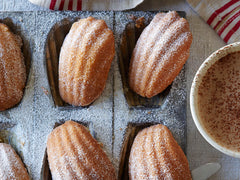 Recipe : Madeleines
These lovely little cakes, shaped like scallop shells, are believed to have originated in the Lorraine region of France. Since Marcel Proust gave them a mention in his novel 'Remembrance of Things Past', generations of French children have come home to a plate of these to dip in their 'chocolat chaud'. They work equally well with a nice cup of tea or coffee. Happy baking!
Ingredients : 
130g plain flour
½ teaspoon baking powder
A pinch of salt
120g caster sugar
3 eggs
2 teaspoons honey
Grated zest of 1 lemon
120g salted butter, melted and cooled
1 tablespoon icing sugar to decorate
Equipment : Non-stick madeleine pan, buttered and floured
Makes about 24
preheat oven to 190°C (375°F) Gas 5.
Sift the flour, baking powder and salt into a bowl and set aside.
In a large bowl, whisk the sugar, eggs, honey and lemon zest with an electric hand whisk until it has tripled in volume and the mixture leaves a thick ribbon trail when you lift the beaters. Add the sifted dry ingredients and whisk lightly. Add the melted butter and fold in until just incorporated.
Spoon the mixture into the prepared pan. You should have about half the mixture remaining - cover with cling film and refrigerate until later. Bake madeleines in the preheated oven for 15 minutes. 
Remove from the oven and turn out onto a wire rack to cool.
Wash, butter and flour the madeleine pan, fill with the remaining mixture and bake as before. Eat the first batch whilst waiting for the second to bake! Dust with icing sugar to serve.
The madeleines are best eaten on the day of baking, or can be frozen for up to 2 months.