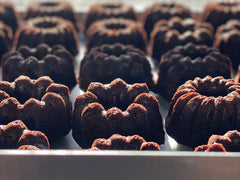 Whilst it feels that lots has changed since my last post at the start of lockdown much at Meg Rivers remains constant, something for which I know our customers are grateful for. Great product and fantastic customer service as well a fab team of fun and happy people.
I'm so proud that we continued baking and shipping orders throughout lockdown. Even with a significantly diminished team we still offered fabulous customer service as is evident from the many wonderful reviews on our new Trustpilot page.
Regular visitors to the website will see that stock levels and variety have expanded as our team returns to it's 'old normal' level and Christmas items will soon be available to order. As the uncertainty around lockdowns, and self isolation continues our new working pattern of separate shifts containing all skills will enable us to continue to operate should one team be forced to isolate. This is all more important than ever as we head into traditionally our busiest time of the year! 
It may mean I don't get to see my sisters as often as I'd like and I miss being in the bakery with the full team, passing ships in the late afternoon as we are at the moment. 
We've also taken delivery of a fabulous packing machine that will help the smaller teams wrap our delicious product more efficiently, giving us more time for baking. Although I did manage to chop a ginger cake entirely in half on my first solo attempt on the machine!
One of the mild frustrations of lockdown has been the inconsistency in both the Royal Mail service we use for off shore/Highlands and Islands deliveries and our courier service. Obviously this was due to excessive strain on their infrastructure with a combination of staff illness and a huge increase in parcel numbers. We have a great relationship with our courier and while it was frustrating not to get the consistent overnight service for a small number of deliveries our customers were also understanding for which I am grateful. I still continue to recommend allowing an extra day for delivery if at all possible to avoid disappointment. 
I have also been overwhelmed by the lovely emails we've received offering encouragement as well as personal stories of how a delivery of something yummy has made a real impact on someones day.
Sending happiness through the post is something Meg Rivers Bakers of Happiness has been doing for over 30 years - long may it continue with the loyalty of our staff and customers.
Stay well
With best wishes
Jess