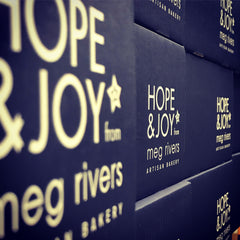 Dear Customers
Firstly, I hope that you are keeping safe and well. 
What a few weeks! We have been fortunate to be super busy so this is a bit late coming I know. Thank you for keeping us busy, for supporting our business, for spreading Happiness with your orders and for keeping us going in these difficult times.
I thought I would outline what we are doing and any changes you may notice going forward. Feel free to skip to the bits most relevant to you!
Firstly we are very much still here and still baking. 
As a SALSA accredited bakery, we already adhere to strict hygiene processes required to supply our product to British retailers such as Selfridges and Liberty of London amongst others.
We have of course taken considerable additional steps to enhance these processes in response to the current pandemic and working with our specialist consultants means our bakery is fully operational and well-stocked.
For the safety of our staff (many of whom are also my family) we have adjusted working hours to minimise contact and moved sales and admin (my sister) out of the building to work from home. This rapid change has made it harder to answer every phone call as fast as we'd like - but we're doing all we can to reply to every message we've received. 
Online orders and emails really help us as they can be shared around digitally, leaving phone lines free for those who don't have internet access.
Our range
We may make changes to our range in the coming weeks so that we're operating efficiently with fewer staff working at one time. Availability on the website is updated regularly so you can order with confidence. 
Our HOPE & JOY hampers are held in stock and a great way to show people that you are thinking of them and help us to continue to support charities at this time.
Cake Club 
We will always protect product for our Cake Club members. 
Cake Club makes a wonderful gift to those in isolation - I will continue with my monthly newsletters from the bakery for as long as I can! I might get my kids to write some of these for their homeschooling tasks!
Deliveries.
Our couriers and Royal Mail have been operating a contactless delivery service for over a week now. Parcels are collected from our bakery without contact and left on the doorstep or a safe place before the door is knocked. Please don't open the door or expose delivery drivers to risks before they have stepped away from the door, they are vital to keeping all small businesses functioning. 
All being well we hope to continue operating deliveries like this for as long as this situation lasts. However, as a precaution and to ease the pressure on our team we have taken the decision to shorten the length of time in advance that you can select a delivery date (now 4 weeks), and we have currently removed the ability to select Monday for delivery. This avoids parcels sitting in transit over the weekend and also allows our team (of 2!) a day to regroup. 
Some good news
Unlike so many businesses we are busy and very appreciative of our loyal customers spreading happiness with our cakes to those they love and care about. 
We know every single person in the UK is affected by this situation and are proud to be able to offer a way for you to show you care for others without physical contact.  As a small family business we are doing all we can to stay strong and come out the other side of this just as cheerful as we were before - if perhaps a little more tired.  
Thank you
Myself and all our team really appreciate your support and for continuing to let us help you to send Happiness & Cake all over the UK.