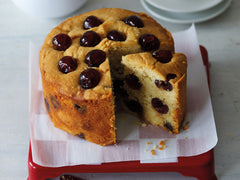 CHERRY CAKE 
There's something so cheerful about this colourful cake. It seems to bring a bit of summer sunshine to the table at any time of the year. This is a recipe that truly does benefit from sourcing the best quality ingredients- we use naturally coloured glace cherries from Provence in  Southern France – so much better than those artificially bright red cherries found in commercial cakes. 
400 g / 2 2/3 cups whole glace cherries, washed and drained, plus 10 to decorate
2 tablespoons Kirsch
150 g 1 ¼ sticks salted butter, soft
120 g/ 2/3 cup (caster) sugar
2 eggs
3 tablespoons corn oil
75 g/ 2/3 cup self raising flour
120 g / 1 scant cup plain flour/ all purpose flour
75 g / ½ cup ground almonds
35 g / ¼ cup finely chopped almonds
15- cm / 6- inch round cake pan, lined with baking parchment
Serves 6-8
Preheat the oven to 150'C (300'F) Gas 2.
Put the cherries in a bowl with the Kirsch and set aside to marinate. 
In a large bowl, cream the butter and sugar together until pale a fluffy. Add the eggs one at a time, beating between each addition, then stir in the corn oil. Add the flours and the ground chopped almonds and fold together, then add the marinated cherries and stir into the mixture. 
Spoon the mixture into the prepared cake pan and bake in the preheated oven for 60 minutes. Remove from the oven, taking care not to jolt the cake, and top with the remaining 10 cherries. Return to the oven and bake for a further 20 minutes. A skewer inserted in the middle should come out clean. Remove from the oven and allow to stand for 30 minutes before turning out onto a wire rack to cool completely. 
The cake will keep for 7 days in an airtight container.